The Story of Our Boutique Hotel in Key West
The Tropical Inn is one of the oldest family-owned and operated lodging establishments in The Conch Republic. In 1984, tourism was just gaining a tentative toehold in Key West history, and the big hotels had yet to discover it at all.
[Read More…]
Dennis Beaver, local entrepreneur and civic leader, brought to life from a neglected but historically significant Bahamian Conch House the third of his bed and breakfasts in Key West. He operated it with close friends and family members until 1999, when other opportunities called. Jane Lowe and Allen Lewis were exploring the Keys about that time, trying out their new boat. Making their time off a busman's holiday from their Savannah-based commercial real estate careers, they discovered the Tropical Inn.
While a charming property that enjoyed a loyal following, it also had considerable upside potential. Best of all, it met that most important of requirements: location, location, location!
In their travels, Jane and Allen preferred to stay in small, family-run hotels, like those typically found throughout Europe. They enjoyed the uniqueness of the accommodations and the affability of fellow guests. From time to time, they mused about owning such a property. Ever ready for a new adventure, the Tropical Inn became their "next development project." Little did they imagine at the time what a challenging but fulfilling part of their lives innkeeping would become!
The missing ingredient was a "front person" to meet and greet guests and see to their comfort. With a fresh degree in Hotel Management and a birthright in Southern Hospitality, what more obvious choice than daughter, Brandi? Coaxing her to leave her fast-track career with a large, corporate hotel, the team was formed.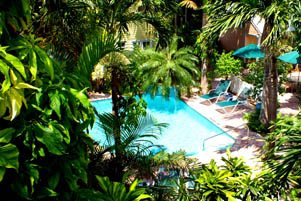 So they set about their goal of making the Tropical Inn a personal sanctuary for guests … an intimate and engaging retreat capturing positive energy, good karma, and that ever-elusive sense of "calm."
Serendipitously, the opportunity to purchase an adjacent vacant lot soon presented itself. Seizing the moment, it was incorporated to create what is today an exotically lush tropical garden graced by the hypnotic sounds of falling water into the sparkling pool and inviting hot tub.
Luxurious Lodging Accommodations
Rooms and common areas were redesigned, furnished with beauty, quality, and comfort. As the vision became reality, the Tropical Inn collected a loyal following of guests from around the world.
In 2004, additional adjacent property was acquired. Over the next two years, derelict buildings were renovated, more than doubling the original inn's footprint and taking it to the next level of luxurious guest accommodation. Expanding to embrace three cloistered cottages and a installing a soothing hot tub to complement the already-inviting waterall pool, the original inn was transformed into a secret garden enclave.
In the summer of 2011, the last of the assemblage was renovated, in a style bridging the traditional ambience of the Main House and the dramatic luxury of the garden cottage suites. The Caribbean Cottage, housing the Coconut Cabana and Conch Courtyard, was "brought into its own," retaining its intrinsic "Old Florida" ambience, while integrating every modern comfort and convenience with designer appointments to satisfy the most discriminating contemporary traveler.
Key West Hospitality
Today, the Tropical Inn is one of the most unique, romantic, and stylish small lodging choices in Key West, infused with homelike, welcoming warmth and dedicated to providing the very best in guest experience.  Jane, Allen, and Brandi's enthusiasm for sharing this very special place is infectious, and they are always ready to welcome new friends into the Tropical Inn family. Their concept of what makes a perfect island hideaway manifests itself in every detail of the Tropical Inn. The day-to-day operation is a personal, hands-on endeavor, ensuring a quality experience for each guest. Someone is always available for help with anything a guest may need, even if it's just for a friendly chat in the garden or on the back porch, over breakfast.
---
Frequently Asked Questions
Are you a bed and breakfast?
In the sense that the term, "bed and breakfast" has come to be distinguished from more cosmopolitan properties known as "boutique hotels", we fit the description only to the extent that breakfast is included with your room and we are located in Key West. The Tropical Inn is more distinctive than the average B&B on the island, yet decidedly unpretentious. What sets us apart is that here you will find quality grounds, accommodations and amenities befitting a luxury hotel, along with an attentive, yet never obtrusive, staff — and no forced mingling with other guests.
Breakfast is fresh and ample "continental plus" fare, served buffet-style on the back porch of the Main House and featuring a different fresh-from-the-oven "Guilty Pleasure" each morning. We invite you to enjoy it poolside in the expansive, lush tropical garden that serves as our common area, which has pockets of privacy throughout, allowing guests relaxed enjoyment of our intimate ambience in their own space. Or take a tray to the Duval Street veranda, your room, or your private porch, deck, or patio.
Just as you'd expect at an upscale hotel, at The Tropical Inn you'll find quiet climate control to assure your comfort throughout the property, rooms equipped with TV and current technology to keep you connected to the outside world (should you choose to invite it in), quality furnishings and appointments befitting an upscale home, and environmentally-sensitive amenities in each accommodation's en suite bath.
Those familiar with mainstream B&Bs, known to fuss over their guests in what, to our minds, seems a forced and over-solicitous manner, may be surprised at the unobtrusive style of our service … again, characteristic of a boutique hotel. While our staff is friendly and accommodating, we are impatient with pretension and believe that guest privacy is paramount. Therefore, we let our guests set the level of interaction with their fellow guests and with us.
Our attitude is casual, but attentive, and uncompromising in our quest to deliver guests a quality stay. Our goal is to assure not just a clean, comfortable accommodation, but a uniquely enriching experience that they will treasure in their memories … and a profound sense of place that will draw them back again.
I want to come and go as I please. Is there a curfew?
We like to say, "When visiting Key West, you owe it to yourself to stay in a bed and breakfast or small, family-operated inn — even one of our competitors — because the experience is so much an integral part of the culture here." Some are reticent because they think their freedom to come and go will somehow be restricted. Not so at The Tropical Inn! Guests have keys to the entry door and their room, allowing them access at all times … just like at a hotel. And even better, their privacy and safety are assured because the property is available only to those in residence … just like at home.
Do I have to share a bath?
Heavens, no! All of our accommodations feature en suite baths.
Is there air conditioning?
Of course! All accommodations and common areas are under climate control. We hear this question fairly often and are always surprised by it. We can't imagine any quality Florida lodging that would offer their property without it.
I have friends staying somewhere else in town. Is it OK to invite them over?
Because of the limited size of our facilities, and to insure that our guests receive the full benefit of their Tropical Inn experience, we restrict the use of the common areas to registered guests only.
I've never been to Key West. How long should I plan to stay?
There is so much to see and do, and such a journey to get here, you should plan at least three days on the island, if you have the time. You could easily stay a week and not "do it all!" In fact, we have quite a following of repeat guests who always find something new and interesting to do, evey time they visit.
Are you on the beach?
No! We have a better location: right at the midpoint of the main street in town (Duval Street), which is a mile long, Gulf to Atlantic. If you are staying waterfront at either end, you are about a mile from the other, and so, a far less central point from all you have come to see and do than if you stayed with us. In fact, Key West is not known for its beaches, having a reef two miles offshore that prevents wave action from producing sand, as you might find on less protected shores. We do have beaches (the best is at Ft. Zachary Taylor State Park, right around the corner from us), but visitors come here to experience much more unique diversions than can be found anywhere else in Florida … and perhaps the rest of the world, for that matter!
How close are you to Mallory Square? The beach? The ferry terminal? Southernmost Point?
Old Town is approximately one mile square. Duval Street, the main street in Old Town, is approximately one mile long. Our strategic location at the mid-point of Duval Street places us within easy walking distance (about a half-mile in any direction from the farthest reaches of the historic district) to all Key West attractions.
How much sun does the pool get?
Because of all the lush vegetation in the garden, which casts shadows, the pool gets the most sun when it is directly overhead — late morning to mid-afternoon. If you are looking for a full day's sunshine for tanning, we suggest a trip to the beach. But beware! Because of our latitude, the sun is especially intense here, so it's really not advisable to spend an entire day "baking". You will be amazed at how sunkissed you'll get, just exploring the island! For that very reason, we keep sunscreen handy in a basket on the back porch of the Main House. Not a bad idea to put some on, as you leave the inn for your day's adventures!
May I borrow a pool towel for the beach or water sports?
Of course! Just be sure to shake the sand out – it plays havoc with our washing machine!
I'm taking the ferry. It arrives before your check-in time and departs after checkout. What do I do with my luggage?
Check-in begins at 3PM, but we try our best to have your room ready if you'll be arriving earlier. Just be sure to let us know when to expect you. Checkout is 11AM. We have a safe place to store your belongings, whether taking the ferry, catching a late flight out, indulging in a special outing that ends after checkout time, or just lingering late to savor that last little bit of Key West the day of your departure.
Will we need a car?
No! Parking is at a premium everywhere in Old Town and if you drive in you will find you will park your car and forget it until time to leave – and if yours is a rental, you'll incur unnecessary expense. Because driving in the narrow streets of Old Town is, at best, a challenge, most of our guests enjoy Key West by foot or rent bikes or scooters to experience the island "like locals." If you want to take a day trip off-island, there is a convenient and economical car rental agency just a few blocks from the Inn. Oh — and speaking of off-island day trips, be sure to ask us about the special itinerary of Florida Keys "best kept secret places" we've made for our guests!
If I do decide to drive, where will I park?
We have only two parking spaces for guests, included in the daily room rate and situated immediately adjacent the Pineapple Hideaway and Gecko's Garden. It is shared with our staff, so during office hours you will have to ask us to move our vehicles (we're always happy to do so, with no waiting) for ingress and egress. For other rooms, there is generally free curbside parking to be found within a half-block of the Inn on cross and parallel streets to Duval Street. (Duval Street is metered; cross and parallel streets are not). Even more convenient is a commercial lot across the street from the Inn, where our guests are offered the discounted rate of $20 per day with in/out privileges. No matter which parking arrangement you choose, there are two loading zones just steps from the Inn's front door on Duval Street for convenient luggage transfer – park there for a few minutes, while you come in to register.
I won't be arriving until after your office is closed. How do I check in?
No problem. We will leave a late arrival packet for you. You must call for special instructions if you will be arriving after 5PM.
Do you have any rooms with two beds?
The Banyan Tree Suite has a single (twin) daybed. The Tuckaway has a pullout sleeper loveseat (twin). Each can accommodate a party of up to three guests. We have no accommodations for a party of four.
Do you have hair dryers? Refrigerators in the rooms?
Each room is equipped with a hair dryer, iron, and ironing board. All rooms have mini fridges except the Pineapple Hideaway, which has a full size refrigerator in its studio kitchen. There is a communal microwave oven and a basket of paper plates and cutlery on the back porch of the Main House for everyone's use. We invite you to "make yourself at home."
Do you allow pets? Children?
We love pets and have plenty of our own. However, we are unable to accommodate them at the Inn. Young adults age 16 and over with well-behaved parents are welcome.
Do you offer group rates? Rent the whole inn out?
We limit reservations for guests traveling together to no more than two couples, so no group discounts are available. The reason we do this is that we have discovered through experience that our small inn cannot accommodate larger groups without impacting other guests. We want all of our guests to receive the full value of their vacation investment, so are sensitive to the need to maintain the quiet ambience for which the Tropical Inn is known.

What about hurricane season? Winter storm season?
No matter your embarkation point or the season in which you are traveling, you may encounter travel interruptions along the way, or even before leaving home. Think about this: you are leaving from or traveling through storm-prone territory, whether winter or summer. Or maybe you live in a high-risk area. If "your" storm does not affect Key West, we are "business as usual". You will be expected to adhere to your obligations regarding your reservation, just as we are to assure that your accommodation is ready for you when you arrive.
To address unforeseen eventualities, we strongly recommend travel insurance at all times. This protects you against most last-minute travel emergencies, whether weather-related, transportation-related, or personal.
Hurricane Season Cancellation Policy, effective June 1-November 30:  We do not refund for inclement weather or other circumstances beyond our control. We strongly encourage the purchase of Travel Insurance to protect your vacation investment!
Please note that we do not sell Travel Insurance, but provide a link on this website to Travel Guard International, one of the most reputable and comprehensive providers in the travel industry. We encourage you to become acquainted with all aspects of travel insurance by clicking here.
In the unlikely event that a hurricane evacuation is ordered while you are a guest here, and you have not purchased travel insurance, you will be issued a voucher for the unused portion of your stay. Guests holding a confirmed reservation who are unable to travel to the Tropical Inn because of the closing of the Key West Airport or connecting roadways due to a mandatory evacuation and have not purchased travel insurance will receive a voucher in the amount of the room deposit held. Vouchers are redeemable between June 1 and December 1, up to two years from the issue date, excluding special events and holidays. (Exception: Vouchers issued for cancellations of Fantasy Fest reservations can be applied to future Fantasy Fests in the ensuing two years.)
No voucher will be issued if the storm is not a threat to Key West, and you are unable to travel because of canceled flights or adverse travel conditions outside the Keys. We strongly encourage the purchase of Travel Insurance to protect your vacation investment!
And, most important of all … why should we choose The Tropical Inn over other B&Bs in Key West?
While we are family owned and operated, we are far from a "mom and pop" operation. Ours is a team of professionals who dedicate their hearts and efforts to innkeeping as a recognized niche within the travel industry. Our Innkeeper, Brandi, holds a degree in Hotel Management from an accredited university.
At the core of everything we do is our ever-present demand for excellence in our product and of ourselves. What we do is not just our job; it is our passion. Testament to this is our enviable record of returning guests and their referral of friends and family.
We know the meaning of the word "value". No matter your budget, we aim to provide you with an exceptional experience that sets us apart from other Key West lodging choices. From our most affordable accommodation to the most indulgent, superior quality of appointments, amenities, and service is consistent. What makes the difference in rate among them is location within the compound, view, and physical size.
We strive to assure that information displayed on our website conveys an accurate impression. At the Tropical Inn, you may rest assured that "what you see is what you get".