A Secluded Garden Oasis in Key West
The romantic garden at the Tropical Inn is a very special secret, incongruously hidden away, just steps from the dynamic energy of Duval Street. Relaxing by day and positively magical by night, it affords guests an added dimension to their accommodations rarely found in Key West.
The Inn's narrow and unassuming facade on the bustling main street of Old Town belies the mellow ambience within. Traversing the corridor of the Main House, one is delightfully surprised to emerge into an expansive, exuberantly lush green oasis of calm.
Reminiscent of the sequestered courtyards of New Orleans' French Quarter, the garden is divided into two levels flowing into one another via a brick pathway through the foliage. The sunnier "upper garden" behind the Main House of our bed and breakfast features a waterfall pool, where it is not unusual for the sound of falling water to turn a good afternoon read in the shade of a palm tree into an unplanned but refreshing nap.
The lower level, tucked in among garden cottages, has a briskly bubbling hot tub that beckons guests to soak away the cares of the world. It is comfortably furnished for sharing special moments, dining al fresco, or simply enjoying the rare opportunity for quiet reflection while indulging the senses.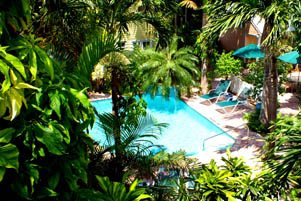 A most romantic tradition, unique to Key West at the Tropical Inn: love locks! Many of our guests visit Key West to get married, mark an anniversary, or just celebrate being together. An endearing way to commemorate the occasion is one a European visitor recently shared with us. Adopting a centuries-old Chinese custom, couples affix locks to Old World public edifices, most commonly bridges and gates, to symbolize their everlasting devotion. A "natural" for our romantic B&B, the gesture has spread to the big bird cage in our garden!
So, during your stay with us, mark your own place in time together! Bring along the most distinctive padlock you can find – or choose one we have on hand. When the lock snaps shut, closed forever, the moment will be captured, sealing your devotion and binding your biographies forever in the moment.