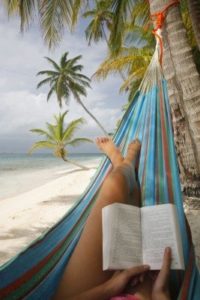 Do you love books? Me too. Do you think it's a real shame that technology is taking reading in an electronic direction, rendering the printed word a relic? I agree. Do you feel as if one of life's simple pleasures has slipped away, as neighborhood book stores have shuttered, one by one? Decidedly.
I recently wrote a blog about losing our book stores, here in Key West. Now we're down to just one. Used to be, guests asked about the town's book stores as a tourist attraction. Sadly, no more.
But wait! There's a glimmer of hope! Have you heard of World Book Night, when the national effort (it's actually a worldwide event) to promote reading is slated to give away a half-million books in 5000 communities "from Kodiak to Key West"? If your home includes a bookshelf, you'll want to know more … and maybe even sign up to participate in next year's event. Until then, I hope one of the Givers finds you — they have some great titles to hand out!
Have a look at the World Book Night website, like them on Facebook, spread the word … and tell everyone that you READ about it on the Tropical Inn's blog!