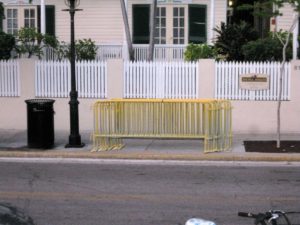 The first hints of Fall (yes, we do experience "seasons", here in our subtropical Paradise) … arrived this week: a blessedly fresh front of cool, crisp air … and banks of haphazardly-painted yellow barricades, fresh from the Public Works storage yard, scattered randomly along Duval Street. Must be the Party of the Year can't be far behind: Goombay is next weekend, kicking off the ten days of annual madness known as Fantasy Fest.
Like Mardi Gras in New Orleans and Carnival in Rio, it's a legendary party that should be on everyone's Bucket List!
In 1978, on Halloween Day, local entrepreneurs/Key West icons, Joe Liszka and his partner, the late Frank Romero, found themselves at what is now perhaps the busiest intersection in Old Town, Front and Duval Streets. On a typical day of warm, brilliant sunshine, lay before them a distressingly deserted scene: nothing moving, no traffic, no tourists … shuttered storefronts because there was no business to support the shops during "off season".
They decided that what was needed was "a fest, a carnival, a celebration, something that will entice people to change our moribund season to one of great fun; a party that will bring many people to understand that this season is one of our best." The shared vision and inspiration created on that day proved to be the incubation of the concept that would become Fantasy Fest, a celebration of good-natured debauchery and zany, ribald merriment.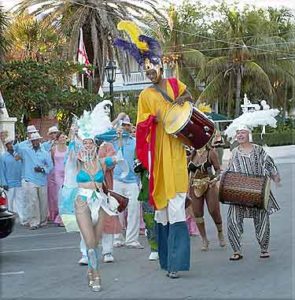 Junkanoo band: leading the way to Goombay …
the kick-off to Fantasy Fest each year!
Each year, Fantasy Fest grows, bringing tens of thousands of visitors to Key West for the days leading up to the Duval Street spectacular: the grand finale parade. This year, the Conch Republic's characteristic irreverence focuses on the theme, portending the coming of the "end-of-the-world-as-we-know-it" on December 21 (according to the Mayan calendar), Aconchalypse! There is something for all persuasions, from a child-friendly pet masquerade, to dare-to-be-bare body painting, to decidedly adult, edgy adventures, not for the feignt of heart!
The Tropical Inn's strategic location right at the midpoint of Duval Street means that all the zaniness passes right by our front doors. Our porches provide "ring side seats" to the pageant that becomes progressively more colorful and outrageous with each passing day of Fantasy Fest "week".
On Saturday night, our guests enjoy the grand finale parade while indulging in a complimentary open bar of top-shelf libations and a gourmet buffet (no need to scramble for that mass-produced street food for dinner!), which starts early and continues throughout the parade. Everyone is assured an uncrowded place on the Duval Street porches for parade viewing, from which they revel in being an integral part of the extravaganza, caught up in the visceral, pulsing vibe of Fantasy Fest. The upstairs veranda is especially popular, with guests throwing and catching airborne strings of beads with each parade entry as it passes by, "close enough to touch". All the while, they have the convenience of their rooms near at hand and the ability to freshen their drinks and take in the festivities just above the crush of the crowd.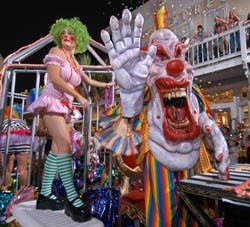 Each year, more than half of our attendees stake their room claims for next year's festivities before this year's revelry comes to an end. These are our "Fantasy Fest regulars", who return year after year. And each year we add a few new friends, many of whom, in turn, become repeat guests, both during Fantasy Fest and at other times throughout the year.
We're sold out this year, of course, but we begin taking reservations for Fantasy Fest 2013 (we're not buying that stuff about not being around this time next year) on November 1. Our loyal regulars have "first dibs" until then. But we have an e-mail ready to go that we can send you now, with rates and a description of the special Fantasy Fest reservation procedure, to get you planning! As you might imagine, we have a wait list, so get on it early so you'll be near the top and come join us for next year's fantastic fantasy, fun, and frivolity!